The 9th Higo Gayu-kai exhibition
Next day our visiting Kubote engei, we went to Kumamoto for Higo Gayu-kai(club) exhibition. The Gayu-kai is belonged to Gasyo-en. As you can see the Gayu-kai is very high level, some club members are regulars of big shows such as Gafu, Syuga, and Kokufu. This time they held a popular vote.



No.8, Mr.N is ex winner of Gafu-ten.



No.3, Mr.Y is my husband's bonyu(bonsai friend) and he had informed us about this Gayu-kai's exhibition. He is a pot collector. Some of his collection have been registered as Kityo-pot at Gafu-ten that appeared on the Kindai bonsai magazine.



No.4, Mr.A is a chairman of the Gayu-kai. For me, this mame display was next to vote.



This display is all Osteomeles subrotunda.



No.12, Mr.NM is a winner of 2011&2012 Syuga-ten for the middle section of shohin display.



No.13, Mr.O is also a winner of this year's Syuga-ten for the big section of shohin display. Interestingly, this display is exactly same as this picture...same trees, companion plant, pots, stands but two things are different. Can you figure out? The Chaenomeles speciosa, lower right in the rack has kept its foliage and the Japanese black pine's needles at the top haven't been cut yet. My husband voted this display.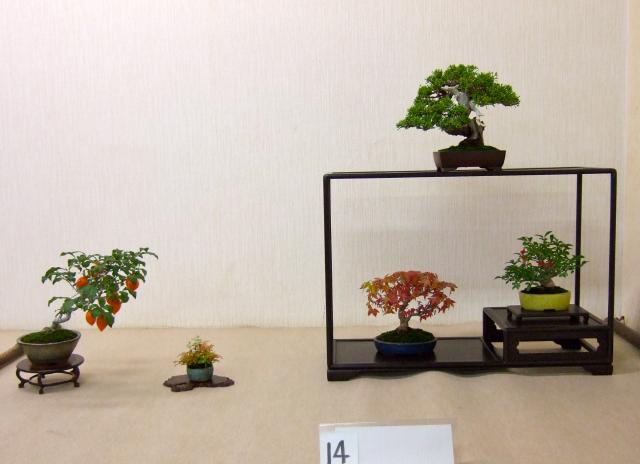 No.15, Mrs. M is a winner of the popular vote. I voted her display.




The Gayu-kai will probably hold their exhibition next spring. I really look forward to seeing it next time.